Property management is a tricky job, with the property manager often needing to switch between roles to do their job effectively. If you're a letting agent, or a block manager, you'll know already that you spend a lot of time sorting out recurring reactive repairs and planned maintenance issues on a daily basis. As we're moving towards the third decade of the 21st century, there is a growing variety of property management software which can make our jobs in residential lettings considerably easier.
But what is property management software? Could you define Excel or Outlook as essential pieces of technology for property? Well, in theory, yes you could. But proptech (as property technology is often referred to) has come a very long way.
We'll be looking at a few factors about property management software, including:
What is property management software?
What should the right software do for you?
Why you should use software instead of traditional management solutions
The benefits of cloud based software
What to consider when investing in property management software
A look at some of the best options
What is property management software?
We mentioned there are a wide range of solutions to solve a variety of problems, giving the average letting agent a huge choice. Put very simply, property management software is a technological solution designed to help manage properties, or the processes around letting, selling, marketing or maintaining property.
Residential, commercial, government operated or private; whatever the premises, using software to automate or streamline some of the typical processes is an increasingly popular solution. In fact, there is a software solution for pretty much everything the letting agent or property manager might need to do on a daily basis.
Communication
Managing property inspections
Managing reactive repairs
Planned preventative maintenance
Safety and compliance
Data management
Although letting agents and block managers may already have one platform which covers the core of their day to day business, there are other modules that can be added to enhance functionality. So, for example, a letting agent may use Expert Agent or AgentPro, but there are also specialist modules that can easily be added to the property management system for repairs and maintenance, payment processing, inventory checking and more.
With the recent growth in the availability of proptech, startups and developers have tended to focus on one particular aspect rather than trying to be a Jack of all trades. What this means is you'll find a software platform that provides a powerful solution for one key challenge for letting agent. This platform is usually designed to integrate easily with existing CRM software as an optional add-on, or an API.
API stands for Application Planning Interface and just means that a software program can access certain features of another software program. For example, if you install an app for your phone, it will often ask to access certain aspects of the functionality. So that app might ask to use the camera so you can make video calls, or it might access your phonebook so that you can see which of your contacts use the same app. An API works much the same way, accessing your client list so that tasks can be managed, invoices can be sent and other crucial features can be enabled.
What are the features or modules of property management software?
Property managers or block managers using a software platform might find that they need to switch between roles regularly, going from customer services to landlord to repairman. This is when modules or additional features come into play and can make a massive difference to productivity. These modules are often referred to as integration partners, and the theory is that they plug in to your main platform easily and add an extra level of efficiency.
When it comes to property management software, the most common additional modules tend to be:
Portal marketing (listing your property on sites like RightMove etc)
Tenant management, often in the form of a CRM
Managing tenancy agreements and other paperwork
Referencing and credit checking
Repairs and maintenance
Accounting and payment processing
Property inspections
Landlord management
Why use letting agent software?
We're surrounded by technology and software, from our phones to our home entertainment systems, everyone has an app or program they use. And, let's be honest, a lot of these programs do make our life easier.
For letting agents, the role has changed so much in recent years. With additional legislation, an increasing amount of compulsory processes and changing tenant demographics; agents who have been working in lettings for a long time will be able to testify that lettings is no longer just a case of putting people in property and collecting the rent on a regular basis. There is a new level of service and accountability that is bringing residential lettings up to the same customer service expectations of other industries such as hospitality and serviced workplaces.
In short, people have come to expect more. If there is an issue with the property, they expect the sort of service they would get from a hotel or restaurant. And with rent being one of our biggest monthly outgoings, it's no surprise that this is the case. Another factor is that agents are now subject to online reviews, social media interaction and feedback. Where agents could once have been able to put off responding to complaints or unhappy tenants, such poor performance could now result in negative reviews, Twitter rants and even complaints reported to The Property Ombudsman.
And this is another key factor in using software in the modern era of letting agents and property managers. The regulations and legislations have been changing with regularity in recent years, and staying on top of the complexities of the changes can be a full time job in itself. Instead of having an indecipherable paper ledger, a spreadsheet hidden in the shared network folder on an outdated version of Excel, or a mix and match of different software systems and paperwork, good software keeps everything in order in one single user interface.
Property management software should enable you to do your job properly and keep a track of the ins and outs of your work.
Before we answer this question, let's take a quick look at 'the cloud'. Put extremely simply, the cloud just refers to the fact that the information is available online from any internet enabled device. So, your information isn't stored on the office computer and you don't need to connect to the work wifi to get your emails, access the database or check a document.
We've actually been using cloud based software for years. Think of wesbites and services like email and Facebook.
So should you use cloud based property management software? Absolutely, yes. In fact, most software is moving to the cloud these days, including some of the most popular programs like word processors, spreadsheets, accounting and data storage.
Consider the benefits of cloud based computing, against traditional office based working.
Cloud software

On-premise software

Accessible anywhere
Can use any internet enabled device
Easily share information with colleagues
Software is often automatically updated
Staff can work easily from home or remotely
Ideal for letting agents with multiple locations
Pay monthly
Automatic updates and new features
Cost covers hosting and server

Need to be in the office
Need to use a device on the network
Information often needs to be sent or emailed between people
Updates to software are usually manual
Limited connectivity away from office
High upfront costs
Installation is required when new versions are released
Server costs
A concern for some people could be the security of cloud based software. After all, if it's stored in a server and accessible to anyone with a login, surely it's easy to hack or distribute viruses?
It would be foolish to say there are no risks associated with online data storage, but there are similar risks for data stored locally too. Office based networks are still as susceptible to breaches, hackers and viruses as cloud based software. If anything, the cloud based software companies often have software engineers working round the clock protecting the integrity of their network functionality and security. Whereas security and firewalls on your own system are normally subject to the know-how of your IT department, who often work standard business hours.
What to consider when buying online property management software
Software for software's sake can complicate your job and be a waste of money. That's why you need to choose software that's actually going to make a difference for you. There are a lot of options out there, with products that can take the strain on pretty much any aspect of a property manager's or letting agent's job.
So what should you consider when choosing property management software to manage your property or your business?
Is the interface user-friendly?
In general software should be easy to use and not have too much of a learning curve. The ideal situation is that you get your new package and with a little bit of video tuition and some easy to read instructions, you're up and running in hours, not days or weeks.
Does it meet your requirements?
What is your pain point? What problem is your software supposed to solve? If you're looking at an option that doesn't tick everything off your list, is there an alternative? On occasion you might need to pair up several software platforms (as we mentioned under the modules section) but as a general rule, your choice of software should take the strain on some of your key problems.
Good technical support?
Even software that works straight out of the box is sometimes subject to a few hiccups. It could be user error, it could be not understanding how things work. So, how is the technical support? A good tech team should be on hand around the clock, or at least in office hours to solve any issues you might have.
Regular updates
A good development team will often release software updates and patches to make the software even better. The joy of using cloud software is often that updates happen automatically and that you can effectively end up with a brand new product (if the update is that big) without needing to download anything.
Is there a big client base?
You can probably judge the quality and success of a product by its fast growing client base. Good software is usually enthusiastically snapped up by the audience, so read things like reviews on various trade sites and on Trustpilot.
Do you fit their demographic?
Does it seem like their existing customers are similar to your business? Or is their marketing clearly aimed at your sector? If it's working for your peers (and competitors) then it will most likely work for you too. You can always get in touch with their customer service team to ask them about their client base and what their service could do for you.
Data security and hosting
As we mentioned about data on the cloud, checking out the security credentials of your chosen software platform is key to keeping your information secure and complying with essential legislation such as GDPR. Most software companies will have secure servers, data encryption and processes to help you protect logins such as 2 step verification. At Fixflo we also run regular tests to check the stability and integrity of our platform, which is referred to as pen testing (penetration testing).
How do they charge?
Most proptech options have variable billing, with things like the amount of properties managed or the monthly income taken into account. Some services offer a subscription or pay as you go, but it does depend on the service. Viewber, for example, offers an option to buy a set amount of credits, whereas Fixflo is based on the amount of units you're managing per month.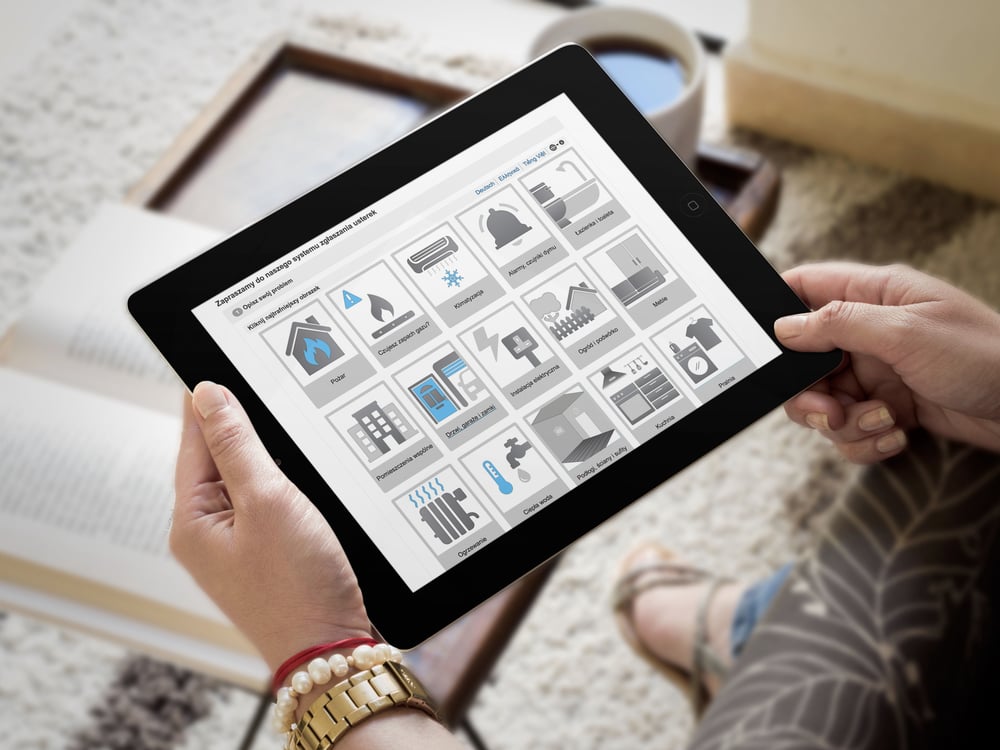 What are the leading property management software options in the UK?
Here in the UK we're spoiled for choice with some great proptech and software solutions. We took a look at the 15 best property management software systems for letting agents a while back, and many of these are still the best options. However, the property software sector is constantly growing, with new service offerings arriving on the scene.
Whatever you need to do as a letting agent or property manager, these proptech options will have you covered:
Previously known as Curo, Affinity is a property management tool built for the social housing sector. Manage rent payments, works invoices, handle tenant communications and process housing performance management reports.
Built to enable letting agents to manage their properties easily. Manage properties and clients, run referencing checks, post new property listing and track your documentation, all from within the Agent OS dashboard.
Setting up the integration.
All in one property management software, Agent Pro is a solid and comprehensive platform for lettings and estate agents. List property, run your social media and property listings, manage tasks, process invoices and payments, and much more.
Setting up the integration.
Arthur is an award-winning property management software designed to save your business time and money by streamlining the entire tenancy journey within one centralised, easy-to-use platform. Via market-leading features, including advanced automation and financial functionality, Arthur allows you to seamlessly manage all aspects of your portfolio and simplify complex operational structures, leaving you with more resources to grow your business.
Now known as RADAR and APR residential sales and lettings solutions, this is a complete sales and property management solution. Manage multiple office sites, administrative and marketing tasks, track KPIs and keep track of tasks that need doing across the organisation.
Setting up the integration.
Manage property and clients, send emails and company branded letters, enable contract signing, data storage and manage your property listings. EstatesIT also offers a full suite of documentation to ensure compliance with legal processes.
Setting up the integration.
With Expert Agent, you can build and fully manage your property website. There are also a great selection of additional services you can plug in to your Expert Agent website to maximise your returns and offer a top quality service.
Setting up the integration.
A fully integrated property management package, Gnomen allows you to design and host your website, and manage your accounts and properties all from one place. You can also enable your tenants to pay their rent and landlords to view details of inspection reports and invoices/statements.
Setting up the integration.
MRI Software offers a huge portfolio of property management software, with tools for managing property units, online marketing, accounting and a huge suite of integration partners, including Fixflo.
Anything related to managing the finances of your properties or your business can be done with PayProp. Collect and match rent, make outgoing payments, view reports and much more.
Manage, maintain and market your entire property portfolio with PropCo's easy to use portal. You can also store documentation and communicate with clients and tenants all within the platform.
One of the most popular CRM (customer relationship management) tools for UK property managers. Reapit allows property professionals to view client accounts, manage tasks and offer additional services to streamline their lettings business.
Offering intuitive property management, financial administration, logging of communications and task management. Re-Leased is easy to use and backed up by great customer service.
Managing inventory and property inspections, RentFind inspector is one of the most popular options on the market. With support for unlimited photos, voice input and easy data input, no need for a pen and paper on your next inventory check.
As well as administration, property management and accounting, Rentman also lets you manage your tenancy deposit and referencing. There is also a choice of desktop or cloud software, so you can choose!
A comprehensive cloud built property management platform, Origin allows letting agents and landlords to manage all aspects of lettings. From tenancy issues and maintenance, to accounting and marketing.
Sign tenancy agreements online, market new properties and manage administration. SME Professional can also be used to set up your lettings website.
Designed to simplify your lettings business, teclet allows agents to automate many of the important processes around property management. There are also integrations with industry leading property and technology solutions.
With the integrated CRM from Veco, you can link multiple departments, identify more business opportunities, analyse and manage multiple properties or blocks. Veco also enables you to automate repetitive communications processes, and track business performance across your portfolio.
AXIA PMX software is designed to be simple and logical to use, as well as adaptable to suit the requirements of our varied subscribers. It is widely used by a large number of agents across the UK.


The future of property management software
The lettings industry is seeing huge growth in new legislation and challenges, and those businesses who rise above the challenges will most likely be those that embrace new technology. We can expect property technology of the future to be built around a cluster of open and connected solutions such as CRMs or other general platforms.
Individual proptech solutions don't aim to fix every problem, but focus on a specific problem and solve that well. And, as technology moves forward, we can expect to see more developments around the internet of things. That is, smart sensors, or solutions centred on a physical product.
And like most other industries, we can expect to see growth in data driven sectors too. With property managers able to check and monitor performance of their property assets and aspects of them through these rapidly developing platforms.
The future of lettings most certainly lies in the adoption of effective property management software. Embrace the future.
---
Have you found this guide useful or informative? We have a whole library of 100+ free ebooks made especially for letting agents, block managers and property professionals.