One of the most vital parts of the Government's net-zero emissions by 2050 target is the transition to electric vehicles. No new petrol and diesel vehicles will be sold in the UK after 2030, while the Climate Change Committee recommends that all vehicles on the road should be electric by 2050.

Block managers can serve a vital role in this transition by fitting electric vehicle chargepoints for their leaseholders. However, this appears easier said than done. We spoke to Nigel Glen, Executive Chair of The Property Institute, about the headaches that could occur during this changeover.
Leaseholders will want chargers where they live…
Regardless of whether the goal changes, it cannot be denied that we've been seeing a great uptake in the number of electric vehicles in recent years, and many residents will be thinking about them in the future. According to Volkswagen Financial Services UK, there were 833,000 EVs in the UK as of March 2022, representing a 71 per cent rise over last year's levels.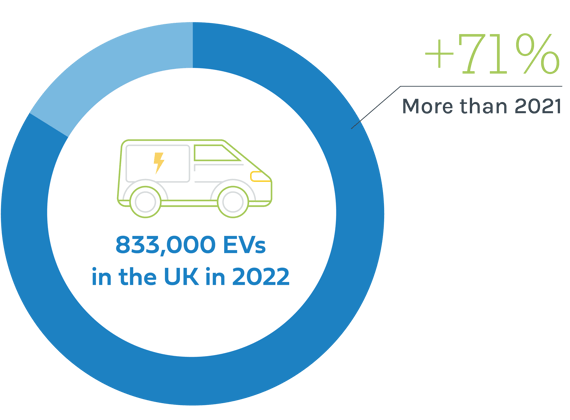 These residents will likely wish to charge at home in order to take advantage of the electricity price cap, as, according to Nigel, rates at public charging stations are likely to be several times higher. As a result, there is growing pressure on managing agents to install chargers for their leaseholders.

…But leases don't usually allow this
Or rather, they won't allow the cost of charger installation to be recouped through the service charge. This is because this type of work would likely be classed as an improvement rather than general repairs and maintenance.

In the rare case in which the lease does allow this kind of improvement to be put through the service charge, you could run into objections from leaseholders. Those who don't own a car may wonder why they should be expected to pay for something they don't use.

Even those who do drive electric vehicles may dispute why they have to pay for the entire infrastructure rather than just their charger in their parking space, especially if they are one of the few leaseholders in the block who own an EV. You may wish to prepare for higher EV take-up in the future by investing now, but your leaseholders could disagree.

Where do you place your chargepoints?
The first thing to decide is how many charging points you want and where to put them.
There are a few options here: You could invest in chargers at every parking space, whether the owner owns an electric car of not. Or you could only put in enough chargers for any current EVs, making sure the building's power supply can handle an increase in usage.
To prepare for the future, you could ensure infrastructure is in place to add additional chargers when they're needed.

You should also consider any communal car spaces (e.g. visitors places). Could chargepoints be installed at these by the landlord? These chargers will come with their own issues. How do you measure what electricity has been used and by whom? How much do you charge and how? Will the landlord lose dormant company status and have to pay tax, because they are spending money and asking for payment?

You'll need to consider how demand for the chargepoints is managed. What if somebody wants to use the charging station at the same time as another person? Or if one person has booked a slot and the previous person is still there? You, as the block manager, will be the first point of call for conflicts like this.
How do you fund all of this?
The big question, says Nigel, is, "how do you pay for it?" There are a few options, none of them perfect.

Electric vehicle chargepoint grants
The Government offers two grants for landlords: electric vehicle chargepoint grants and electric vehicle infrastructure grants. Here's the difference.


Electric vehicle chargepoint grants offer either £350 or 75% off the cost of installing a chargepoint, whichever is lower. Every year, a landlord can receive up to 200 grants for residential property.
Electric vehicle infrastructure grants offer either £30,000 or 75% off the cost of wider building and installation work that is required to install multiple chargepoints. The amount available depends on the number of parking spaces the work covers. A landlord can receive up to 30 of these grants every year.
👉

Read the Government's guidance on chargepoint grants for landlords.
Funding using the corporate route
Resident Management Companies (RMCs) and Right to Manage Companies (RTMs) could fund chargepoint work by asking their shareholders to contribute. Nigel warns that this will come with extra costs because most RMCs and RTMs are dormant (not trading). Investing money and asking for payment will be classed as trading—requiring additional expenditure.
Plus, you would need to get funding equally from all shareholders, while considering that not all flat owners will necessarily be shareholders.
Funding on a per-user basis
Nigel points out that if the landlord, RMC or RTM has cash available to invest, they could simply pay for charging points and ask for the costs back on a per-user basis. However, users probably won't be very happy about this, as even with a grant, it's likely to cost them quite a lot of money.
Bear in mind too that you might have to split new infrastructure costs (such as providing the block with greater electrical capacity) between them, adding to their expenditure.

What's stopping improvements like these?
Issues like those Nigel observed with electrical vehicle adoption highlight how leasehold law hinders many green initiatives. It is very rare for a lease to allow the landlord to recoup the costs of improvements through the service charge, which means decarbonisation measures such as insulation enhancements lack the incentive for landlords to carry them out as they cannot be charged back to those that ultimately benefit from them, i.e. the flat owners. Unless more funding is made available, this will hold us back from reaching net zero targets.

What's needed is a change in the law to allow the lease to be overridden in certain circumstances. As Nigel explains, this legislation would have to be written very carefully to ensure only green improvement projects can be funded this way, stopping the unscrupulous from abusing the system to fund cosmetic upgrades.
A final thought
So what should block managers do? "Check your lease," Nigel says. "A chargepoint installer I spoke to said that nearly 90% of installations could not be carried out because the lease did not allow it. The remaining 10% of installations were either because the lease allowed it or because the RMC Directors chose to ignore the lease. If a leaseholder objects, this could place you in a tricky legal situation."
---
Could Fixflo help you save emissions? Our repair reporting platform makes managing repairs and maintenance clear and easy, increasing the likelihood of first time fixes and eliminating unnecessary callouts. Book a demo to find out more.