As we enter the Year of the Tiger, we thought we'd take a look at how many Chinese-speaking occupiers have used Fixflo last year. Thanks to Fixflo's multilingual capability, our repair reporting platform supports over 40 different languages, allowing occupiers to report repairs in the language they feel most comfortable with.
In 2021, a total of 1,214,886 issues were reported by occupiers using Fixflo. Of these, a small segment was raised in languages other than English. Upon a further look into the languages used to report these issues, we noticed that Chinese made up a whopping 17% of repairs reported in languages other than English, making Chinese the second-most common foreign language used by our occupiers!
The only non-English language used more than Chinese was Polish, which comprised 20% of repairs reported in non-English languages. This made Polish the most common foreign language used by our occupiers.
How does this compare to our 2018 data?
Comparing this data to our Fixflo Lettings Report 2018 shows us that the amount of Chinese Fixflo users has increased significantly. Only 10% of non-English requests that year was in Chinese, with 39% in Polish. It is evident that the usage of Chinese has grown while the usage of Polish has shrunk.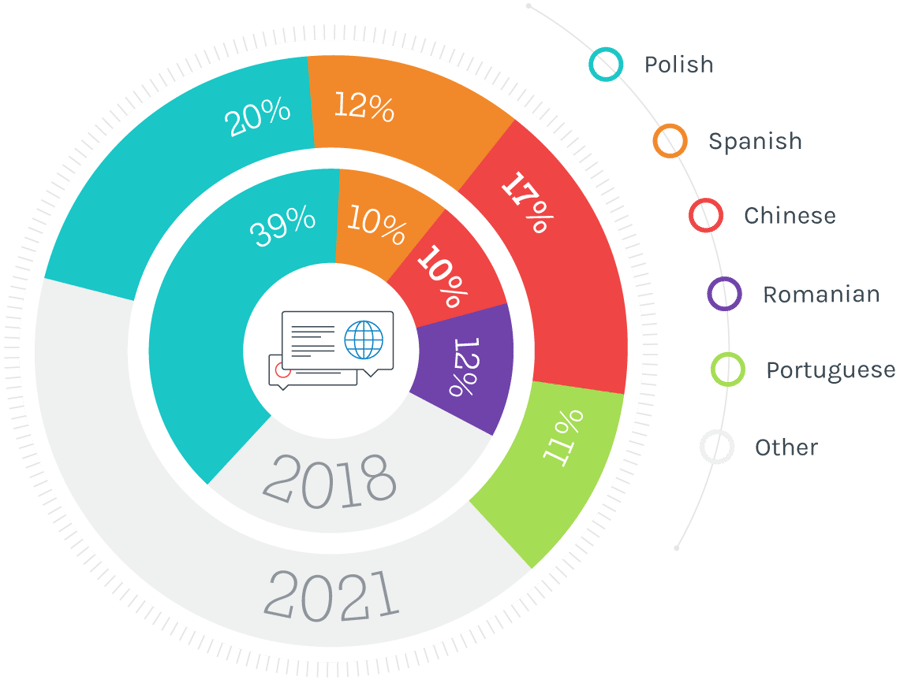 What can agents take away from this?
The number of Chinese-speaking renters in the UK has grown. We can see this in how larger agencies have a dedicated desk staffed with native Cantonese and Mandarin speakers to provide sales and letting services.
Not all agencies require a dedicated China desk, but some are hiring Mandarin speakers as part of their expansion. One tip to bear in mind if you wish to do this is to include WeChat in your agency's social media outreach plan. The Chinese social media platform has WhatsApp-like messaging and calling capabilities, but it's also much more than that; it helps users pay bills, hail a taxi or book a flight. It's a one-stop shop for many services, and companies create their own mini-programs to be run inside the app. This makes it one of the best ways to reach Chinese speakers.
According to a report from the Office for National Statistics, 6 million foreign nationals live in the UK and they make up 9.2% of the UK population. The report also revealed that there were 557,000 international students in the UK during the 2019 to 2020 academic year.
How can Fixflo help?
If you do have non-English speakers among your letting clients, you can help them report repairs in their native language by using Fixflo.
Our online repair reporting platform is available in over 40 languages and can walk occupiers through correctly making their repair requests using easy to follow pictures, prompts and guidance. Nearly 18% of all repair requests, such as issues involving blown light bulbs and mildew, are self-resolved by occupiers with customisable guidance, saving property managers time and reducing unnecessary call-out fees for landlords.
Fixflo is a powerful maintenance management hub that can automate the repetitive, manual tasks involved in the entire workflow cycle from requesting quotes to getting invoiced by contractors, allowing you to quickly and accurately manage occupier requests, ensuring faster fixes, keeping occupiers and landlords happy, and most importantly, freeing you up to build the relationship with your customers that software can never do.
Book a demo to find out how Fixflo can help your business improve your customer experience today!