With yellow warnings for snow and ice descending on much of the UK this week, we're taking a look back at chilly Marches of years past and how property managers can protect their buildings from snow and ice.
2018 brought the infamous 'Beast From The East' when the combination of Anticyclone Harmut and Winter Storm Emma created freezing conditions at the beginning of March. Most areas reported around 50cm of snow and temperatures south of -3°C.
Bracing for bad weather
Snow and ice are no laughing matter. Ice on locks can trap people inside or outside of their homes, and snowy conditions can make mobility around properties difficult or impossible, especially for residents with disabilities.
Salt, grit and antifreeze are the easiest solutions to the problems posed by a cold snap. Around 10 to 15 grams of salt should be used for every square metre of ground to prevent frost and ice, but this should be upped to between 20 and 40 grams if snow is forecast. We recommend using a salt calculator app to help you work out how much you'll need.
Another problem that property managers need to be prepared for in cold weather is burst pipes. When water freezes, it expands, and this can put pressure on pipes, causing them to crack or burst. Burst pipes can cause significant damage to buildings and can be expensive to repair.
Extreme weather conditions can also cause damage to roofs, particularly if they are not properly maintained. Heavy snow can put a strain on roofs, causing them to sag or even collapse. High winds can also cause damage, particularly to older buildings or those with weaker structures.
Preparing for the worst
During particularly cold periods, homes across the UK can be struck by all of these emergencies at once.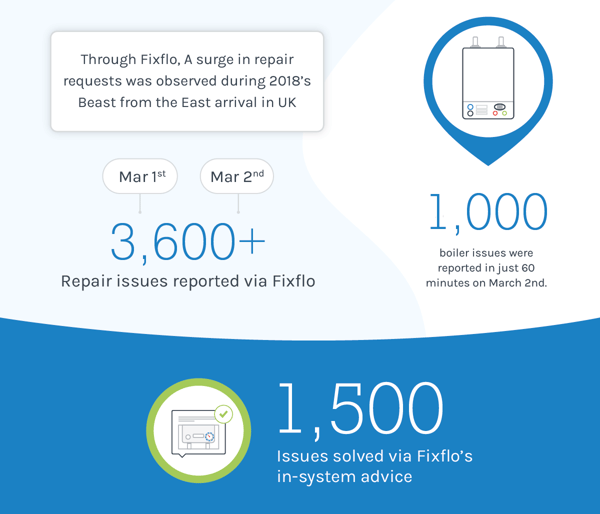 Automating contractor callouts can save you from worrying about the impending doom of another Beast From The East. With out-of-hours repairs, you won't need to deal with every issue raised by residents.
👉Immunise yourself against the cold and de-stress your March with the Fixflo Contractor Marketplace.