It's no secret that tenants are often unhappy with their landlords. With the Regulator of Social Housing introducing tenant satisfaction measures from 1 April 2023, it's time to assess new avenues for change and improvement. Residents report problems only to receive no response or have to wait months for important repairs. Failure to respond correctly to repair requests leads to frustrated tenants and wasted expenditure, so improving communication can benefit all parties. Here are three ways to do so.
1. Take the time to listen and observe
It may be tricky to find the time, but it's vital to speak to those who live in your buildings. The good news about the switch to remote working in the past few years is that this is now much easier. Property managers don't have to be there in person to speak to tenants and aren't restricted to visiting during working hours.

Speaking to residents about their experiences provides an insight that numbers can't. Your KPIs may show that you're meeting your tenant satisfaction goals, but how does it really feel to live in the property? Your satisfaction scores are high, but they're not perfect. Who are the 10% who aren't happy, and why? These are the types of questions that can be answered by sitting down to have an honest conversation.

In-person visits will be even more useful to understand the tenant experience and observe conditions not just in individual flats but in the building as a whole—its common areas, corridors, stairs and playgrounds.

2. Bring tenants onto your board
The backgrounds of those in charge can be very different from their tenants. It's vital for those who live in social housing to be involved every step of the way from the top down. As well as providing transparency for the tenants regarding how their buildings are managed, resident engagement ensures greater accountability for those doing the managing.

You'll learn what it's really like to live in a building day to day as these tenant board members bring their lived experience with them, as well as some much-needed diversity.

If you're going to bring them in, it's important to commit to championing their voices. Don't make the mistake of including tenants for optics but not actually listening to them. Decision-making made without input from the community leads to a lack of trust and a feeling of powerlessness. And a lack of trust leads to low levels of tenant satisfaction, something that could place landlords in the Government's spotlight when its tenant satisfaction measures are in place and tenants are able to scrutinise their landlord's performance.

3. Don't just listen—follow up
All that listening will go to waste if your tenants don't know what you're doing to fix their issues—and stats suggest they often don't. The Housing Ombudsman's 2020-21 Annual Complaints Review revealed some startling issues with communication around repairs and maintenance.
The most common type of complaint was related to responsive repairs. These represented 30% of total complaints, which were upheld in 45% of cases. If reasonable redress findings are included, this means over 66% of complaints involved issues not being fixed correctly the first time.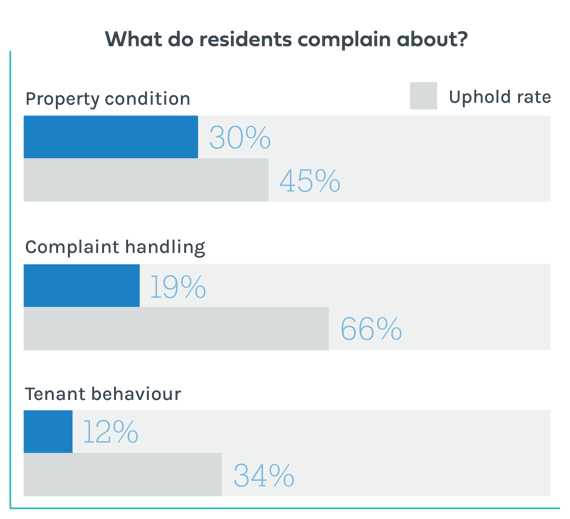 The top three complaints to the Housing Ombudsman Service and the rates at which they were upheld
The Ombudsman points to incomplete or missing repair logs as one potential contributing factor to this. Having accurate documentation of what needs to be repaired and how is vital to avoid wasted callouts and long waiting periods.

If you do fix the problem, make sure the tenant knows it. There's nothing worse than reporting a repair only for the request to disappear into the void. Set SLAs for minimum response time for enquiries and goals for how long different types of issues should take to fix, depending on severity.

Improving communication is one of the most effective ways to increase social tenant satisfaction. Establishing a consistent, reliable approach to managing repairs and maintenance will result in greater trust and resident engagement, allowing you to more effectively face the challenges ahead.
---
Technology can help. Fixflo simplifies repairs and maintenance management by improving communication between social tenants, landlords and contractors.

The easy-to-use repair reporting portal ensures tenants are able to describe their problems in exact detail, resulting in fewer callouts and more first-time fixes, while transparent workflow management means everyone stays in the loop about job progress, what was done and when.
Learn how you can help your tenants use technology to deliver better service.