Before 2020 ended MRI Software and Fixflo engaged with 37 sales agencies and letting agencies to find out how they had been affected by the COVID-19 pandemic, how their businesses responded to the challenges and what the strongest businesses plan on doing in the new year to remain resilient.
Lost revenue
Out of the ten London agencies we engaged with, most reported a decline in both sales and lettings revenue, while just one saw an increase of less than 30% in their lettings revenue.
In contrast, a few agencies in the South East said that they managed to grow their sales revenue by 30% or more.
The biggest challenges were remote working and reduced staff capacity
Eight agencies said that the main difficulty they faced during lockdown was reduced staff capacity. This is echoed by current ONS findings: of the 80% of UK businesses trading as of 17 December, 16% of their workforce are on furlough leave.
Remote working and lack of contact with occupiers were the next two biggest challenges cited.
Some agents also said they had difficulties in understanding public health restrictions.


Importance of technology
Of the businesses who said they were confident in their ability to withstand another lockdown, the vast majority viewed technology as important to becoming COVID-secure.
A wider survey of global executives by McKinsey confirms the vital role technology plays in pandemic tolerance. Of those businesses reporting 'very effective' responses to COVID-19, 72% were the first in their industry to experiment with new technologies, while 67% invested more in digital technology than their peers.
Limited access to properties caused delays to repair works
When it came to repairs and maintenance, reduced access to properties was the number one challenge faced by agencies. A lack of contractor availability was a strong second.
Notwithstanding the clear signal to go ahead with repair and maintenance works in homes, a significant volume of works was not completed in the months after the lockdown began. Reviewing contractor activity data processed by Fixflo, the fluctuation in the ratio of jobs completed against the number of job instructions (by property managers) reached its lowest in April and recovered to normal levels in August when restrictions were eased.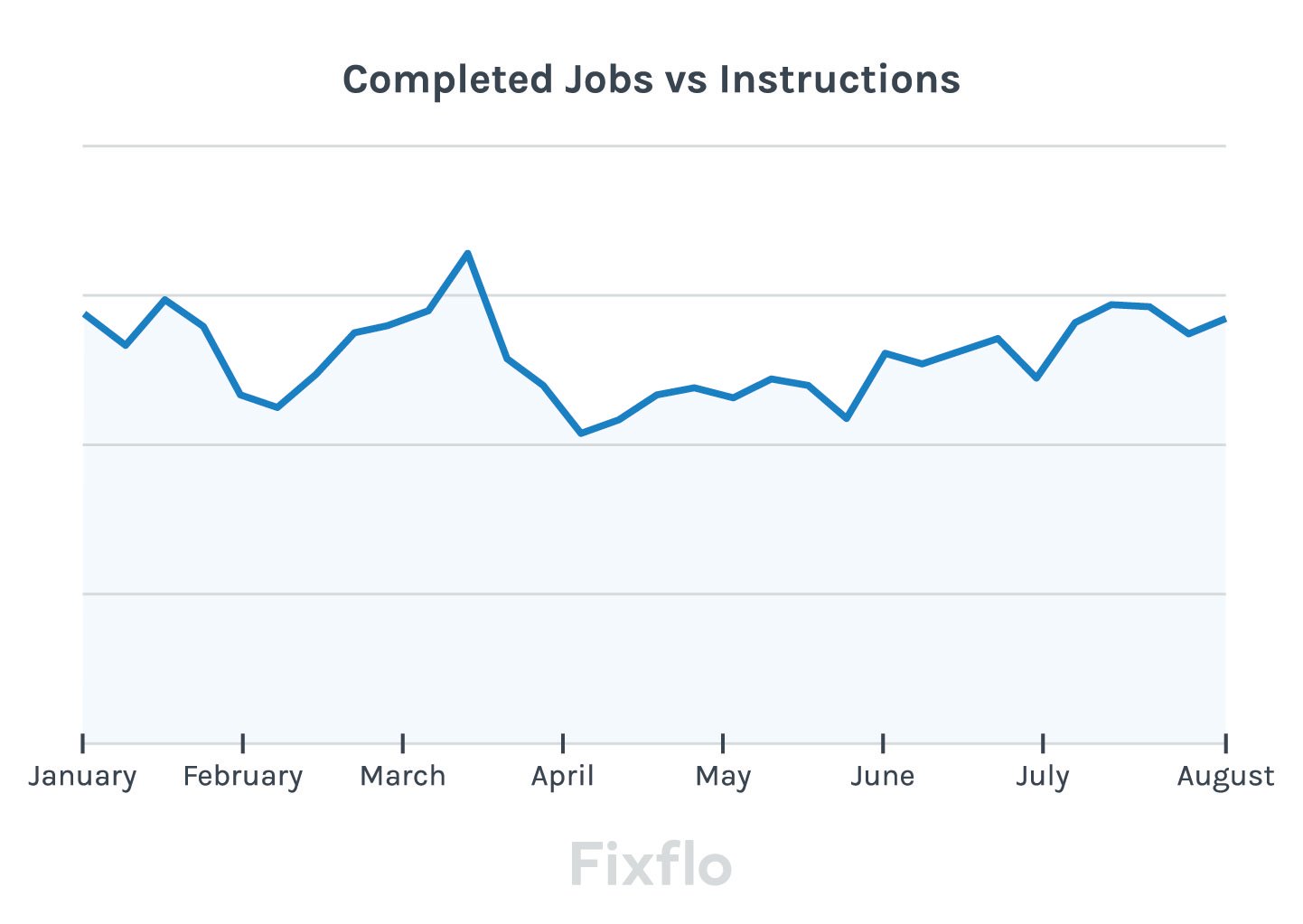 Priorities for 2021
With the Office of National Statistics Report (December 2020) registering that nearly half (45%) of businesses trading said turnover had decreased year-on-year, it is unsurprising that many agencies would prioritise revenue generation in the new year regardless of whether they lost earnings during the pandemic. Many agencies also showed a strong commitment to improving customer satisfaction, which may be driven by a focus on customer retention, especially in the lettings revenue stream.
The businesses that increased their sales or lettings revenue said they would prioritise streamlining property management processes, compliance, hiring and landlord marketing activities.
With an end to restrictions expected this year, agencies should keep the positive changes brought about by the pandemic. 2020 saw years of tech adoption achieved in a few months, in 2021, and beyond, we can expect the most resilient and high-performing businesses to leverage the efficiencies warranted by the effective use of technology. Agency businesses that embrace technology will be more likely to have an edge over their competitors.
We'll host a panel discussion with MRI Software, and legal and business experts in February. Join our mailing list and be the first ones to receive an invitation.