It's no secret that the UK labour market has tightened over the past year. Technical skills are in high demand, making it difficult for agents to source reliable contractors for property maintenance and repairs.
As employers adjust to the current shortage of tradespeople across the country, residents awaiting repairs are left in the lurch. Out of office simply isn't good enough when it comes to emergency repairs, and failure to appoint a qualified tradesperson can lead to unhappy tenants. Not to mention wasted time and money.
It's important to recognise that, in this situation, quick responses are crucial and one of the most cost-effective ways to ensure tenant satisfaction. Fixflo's Contractor Marketplace helps agents save time sourcing hard to find, high-quality tradespeople for both out of hours repairs and planned maintenance.
💡 Over 120 agents already use Fixflo's Contractor Marketplace, so why not join them?
Where have all the skilled trade workers gone?
From 26 March 2020, Coronavirus restrictions limited overseas tradespeople's ability to remain in or enter the UK to work and therefore affected some businesses' ability to trade. Andrew Hunter, Co-Founder of job search engine Adzuna stated "factoring in an existing shortage of skilled workers, plus the dip in overseas tradespeople bringing their skills to the UK due to the pandemic, demand for skilled professionals is at an all-time high".
It's easy to label the current state of the labour market as a product of COVID-19 fallout. But the pandemic is by no means the only cause of shortages. Brexit, a dip in apprenticeship take up rates, and increasingly early retirement have all been contributing factors.
Recent data from the Office of National Statistics suggests a record 1.2 million job vacancies in the construction and general building sector. The most common reasons reported for businesses struggling to fill gaps were a low number of applications and a shortage of qualified applicants. This is only set to worsen as the uptake of trade apprenticeships falls. It was reported that there were only 17,700 starters in 2021, a 21% drop from 2020.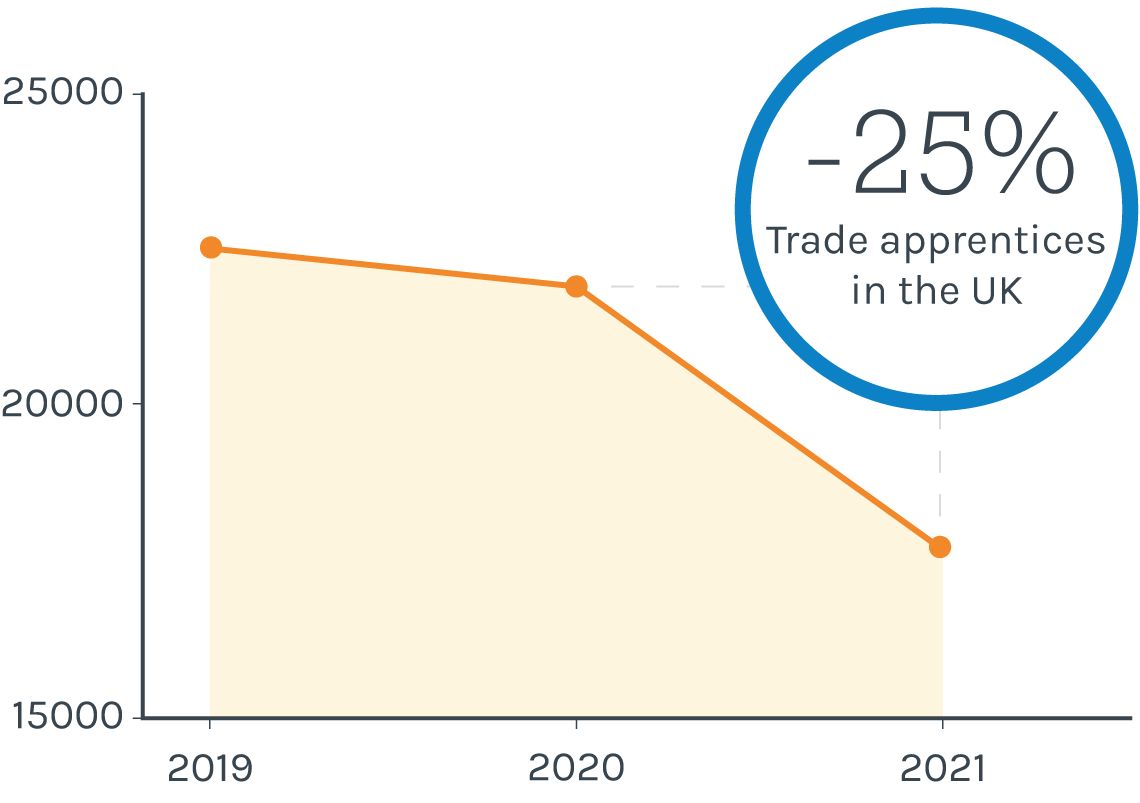 The end of free movement caused by Brexit has also played a part in exacerbating recruitment issues in the labour market. CEO of HomeServe, Richard Harpin, believes shortages are being caused by "mainly EU migrant workers going home" and added, "we are all living and working in our homes more, we want more doing, so I think this is an ongoing phenomenon."
Hunter echoed this, stating that the "demand for skilled tradespeople has gone through the roof… Powered by a surge in demand for home improvements, the last year has seen a sharp increase in advertised job vacancies for trades ranging from plumbers, builders and plasterers, to heating engineers, bathroom fitters, and tree surgeons."
What can you do about it?
In times like these, Fixflo has your back. Our Contractor Marketplace is the easiest way to find reliable contractors, allowing you to source, instruct and assign jobs to reliable and qualified tradespeople directly within the Fixflo system.
Using cloud-based software, we assign landlords and tenants to a professionally certified contractor to deal with the issue and log any progress in the app. In just a few clicks, you can:
Gain instant access to reliable, qualified and insured contractors
Cover your out-of-hours emergencies
Receive all job updates within the Fixflo system


Ready to see what we can do for you? Book a free demo.