Building Safety Act for RMCs - are external directors the answer?
Right-to-Manage companies (RTMs) and Resident Management Companies (RMCs) are feeling the strain of the Building Safety Act thanks to the increased liability it brings for directors. How could this be solved? We asked Nigel Glen, Executive Chair of The Property Institute, for his thoughts.
How does the Building Safety Act affect RMCs and RTMs?
The main issue is one of the Building Safety Act 2022's key principles, the establishment of an 'accountable person' who will take responsibility for the building's safety standards. In buildings with RTMs and RMCs, the directors will be expected to take on that responsibility, and they will be held liable if their responsibilities in reducing building safety risks are not met.
The Property Institute estimates that 60% of the 50,000 blocks that its members manage are run by RMCs or RTMs. Given that the bulk of these will have a board consisting of a number of directors, that's a lot of individuals affected by the new legislation. In fact, the numbers involved are so large that unless the transition is handled appropriately, it could "potentially cause the collapse of the entire RMCs and RTMs structure" by taking away any incentive to stay on as a director, according to Nigel.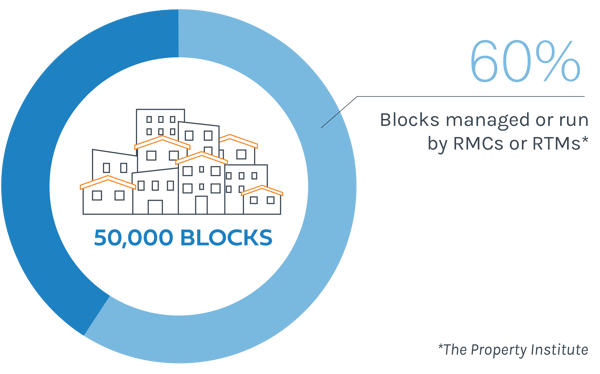 Currently, the role of director of an RMC or RTM is a voluntary position. A recent survey by FirstPort found that 70% of RMC directors took the role because they wanted to have a positive impact on the place they lived. Or, as Nigel puts it, "because they want to affect something". More concerningly, only 12% of the resident directors surveyed said they had a strong grasp of the changes due to take place, which means 8 out of 10 do not.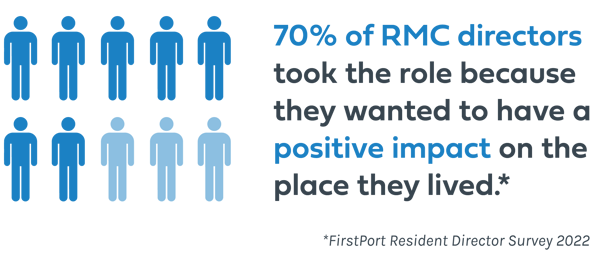 "On the one hand, the Government is trying to encourage people to become directors, but on the other, you've got a piece of legislation that would make them run for the hills if they've got any sense," Nigel explains. "Under the Building Safety Act, the accountable person effectively could go to jail, should they be negligent. Who would be willing to take that risk?"
The worry is that if there's a mass resignation of directors because they don't want to be held liable, entire companies could fold. "And if all the directors resign, the company would be struck off," Nigel expands.
Could RMCs hire external directors?
The TPI suggested that hiring external professional directors with the right level of liability insurance could be a potential solution. After extensive talks with the Government offering this to solve the conundrum, the legislation was amended at the last minute to allow for this. This would also mean that the hiring of the directors could be paid from the service charge, and any terms in the lease, such as stating that directors must also be leaseholders, could be ignored.
"However, it is important to stress that this is not a mandatory requirement, and RMCs and RTMs can hire such directors only if they want to; we don't want to force additional expense on people," says Nigel. "The key is it gives them an option to do it, not a requirement."
How could suitable directors be found?
"The danger is RMC directors just put an advert on Linkedin, and somebody who has zero knowledge and without the requisite PI or experience says they'll do it," says Nigel. "How do we ensure somebody is suitably qualified and able to do the job properly? Surely there has to be some form of recognised accreditation or professional body. You'd need something that people can easily identify and trust. Otherwise, you could see people basing the decision purely on cost and perhaps employing the entirely wrong sort of person."
Nigel also emphasises the importance of continued training and development to ensure directors can keep up with the changing legislation.
"My experience as a property manager was that often directors didn't fully realise what it meant to be a director of a UK company, particularly an RMC or RTM director. There are rules surrounding running a company. There are rules (normally held within the lease) for how to run a particular block. Directors should receive training – for free, online and in their own time. They need to become aware of what they are signing up for, how they have to behave and how they have to treat other leaseholders. They owe it to their leaseholders to understand the job they have volunteered to do.
"I've been involved in so many cases where directors have acted in what they thought was the best interests of the block but have flouted the lease simply because they haven't read it nor fully appreciated its significance.
"That's something I would really welcome – directors being given mandatory training. And if someone won't sit down and listen to a webinar for an hour, do you really want them as a director? It should be free; otherwise, it would be inequitable."
On the subject of cost, what sort of salary could an external RMC director command? "The market will set the price," says Nigel. "There are risks involved, and anyone taking on the role will, no doubt, be looking to be compensated accordingly.
Could managing agents do the job?
Nigel is adamant this is not the answer.
"Your average property manager isn't going to jail for this on their salary. It's also a massive conflict of interest. I would feel very uncomfortable if the property manager was also the director instructing him/herself. And what happens when there is a disagreement about expenditure? Fundamentally, the role needs to have a substantial degree of separation.
"Where are we going to find these directors? There are always people out there prepared to take a risk in return for a reward. But we need to make sure those people are accredited and continue with CPD to they keep up with legislation because it does change so fast."
What's the future for RMCs and RTMs?
Nigel concludes by saying the Government wants more RTMs and RMCs, so we need to be sure that these roles don't vanish. "However, the Government's desire for greater accountability comes with a cost – both in terms of what people are prepared to do and potentially financially. Companies can't exist without directors, and so what we've done by making the appointment of external directors' a choice is to put in a safety valve so that those companies don't collapse. We're simply giving people an option."
---
Are you compliant with the latest block management legislation? In this guide, Cassandra Zanelli, Founder of Property Management Legal Services explains recent changes to the Building Safety Act as well as providing insights into right to manage, ground rent, Section 20 and more.
BLOG DISCLAIMER
This article is intended for information purposes only and does not constitute legal advice. If you have any questions related to issues in this article, we strongly advise contacting a legal professional.
These blog posts are the work of Fixflo and are licensed under a Creative Commons Attribution-ShareAlike 3.0 Unported License. In summary, you are welcome to re-publish any of these blog posts but are asked to attribute Fixflo with an appropriate link to www.fixflo.com. Access to this blog is allowed only subject to the acceptance of these terms.