Over the past 12 months, the lettings industry has seen a raft of changes in legislation, making letting agents' jobs harder than ever! Not complying with these changes can result in a variety of penalties, from steep fines (eg. Right to Rent checks) to agents' landlord clients being unable to regain possession of their properties at the end of their tenancies (eg. Section 21 changes).
It is incredibly difficult to keep track of the mounting responsibilities placed on letting agents, and the Fixflo Report 2016 shows that the barrage of new legislation is taking its toll, as 1 in 10 letting agents are unaware of the effects of the Deregulation Act 2015.
10% of agents unaware of effects of the Deregulation Act
The Deregulation Act came into effect in October 2015, and new processes for dealing with repairs of rental properties became mandatory.
With in-depth survey responses from over 300 letting agency branches across the UK, the Fixflo Report highlights the fact that over 1 in 10 agents remain unaware of what is required to provide a statutorily defined 'adequate response' to a tenant repair request.
Due to legislative changes resulting from the Deregulation Act, if an agent does not provide an 'adequate response' in writing to a tenant repair request, they may set in train a process which invalidates their landlord's ability to serve a valid Section 21 notice to regain possession of their property at the end of a tenancy.
Changes to Section 21 process
It is even more startling to note that 8% of agents are completely unaware of any changes to the Section 21 process. There are now a raft of prescribed documents that must be provided in a legally compliant manner to each tenant, meaning it is more difficult than ever for a landlord to regain possession of their property at the end of a tenancy.
In order to help lettings agents remain Section 21 compliant and to deal with the increased workload resulting from new legislation, Fixflo has developed Section 21 compliance software Letflo.
"Homes that are well maintained and professionally managed benefit landlords, tenants and agents alike, and this report demonstrates how important it is for agencies to have robust procedures in place for property repairs and maintenance.

"It is also worrying that almost a year after the legislation came into force, one in ten agents are still unaware of the changes to possession proceedings and highlights how vital is it for both landlords and tenants that they use a properly trained and qualified agent." David Cox, Managing Director of ARLA
Repairs in London can cost over 300% more than outside the Capital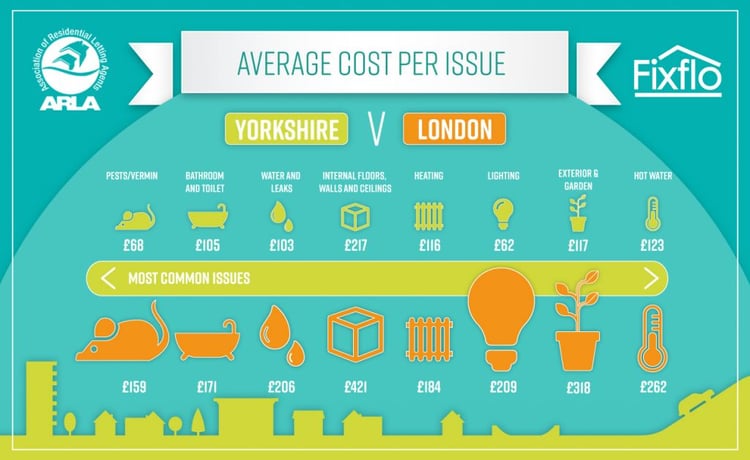 For agents in the Capital, it isof note that repairs can cost landlords over 300% more in London than in other parts of the country. In the case of lighting-related issues, London homeowners found themselves spending on average £208 compared to £62 in Yorkshire. This data comes from repairs handled through the Fixflo Plus complete works order and repair management system over the past 12 months.
That's why it's important to tout the benefits of your fully managed service—if you benefit from bulk-buying power with your contractors, now is the time to mention this to your landlords! Not only will their property be in the best of hands, but they'll save money at the same time.
Key lettings trends
We are seeing an increasing number of repairs reported per property per year, with 2.8 in 2014, 3 in 2015, to an astounding average of 3.67 in 2016. This, combined with the increased paperwork resulting from changing legislation, means that letting agents' workload is larger than ever.
With over 40% of issues being reported outside of office hours, it's important to have processes in place that make your repairs workflow as efficient as possible.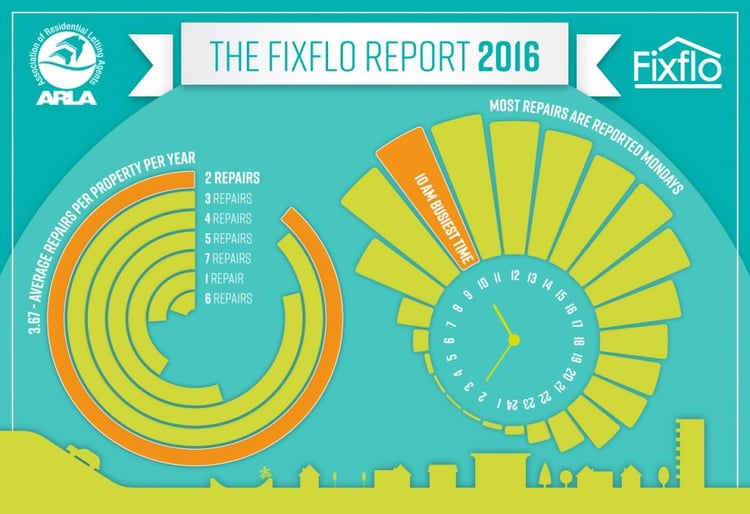 For further insight into the state of repairs, download the full Fixflo Report 2016 here.
"The demands on property management continue to increase with the legislation that has come through the door over the past 12 months. These mounting tasks, that are time consuming to perform on a daily basis, are difficult to deal with correctly.

"With 40% of maintenance issues being reported outside of office hours by an increasingly diverse tenant base, property managers really are the unsung heroes of the industry."Rajeev Nayyar, Managing Director of Fixflo
Fixflo Report 2016

The information in the Fixflo Report 2016 is based on 259,143 repairs reported through the system between 1 August 2015 - 31 July 2016 and 315 unique responses to the Fixflo Rental Repairs Survey.
The Rental Repairs Survey serves to inform lettings processes across the UK, with the aim of increasing efficiency, improving client retention, and providing premium customer service associated with property management.
Further resources