1 in 10 Landlords will exit the market – how will this affect letting agents?
In uncertain economic times, a government survey says that 1 in 10 landlords are looking to exit the rental market. With a potential mass exodus on the horizon, we examine the real reasons behind why landlords are looking to leave and the impact that their departure will have on letting agents, as well as other findings from the survey.

What's happening to portfolio size?
The English Private Landlord Survey (EPLS) by the Department for Levelling Up, Housing and Communities (DLUHC) found that 1 in 10 landlords were looking to sell off their portfolios, and an additional 12% were looking to decrease their portfolio.
However, 11% of those surveyed – generally the landlords with a larger number of properties – were actually looking to increase their portfolios. Asking rents are already at their highest-ever level, up 11% year-on-year, even outside of London. So, if rental prices are on the up, why aren't more landlords looking to take advantage of this environment and increase their portfolios?

Increasing legislation and red tape
The survey suggests that, with increased legislation and changes in taxation, it's getting harder to be a landlord. More than half (55%) of those who were planning to sell up identified recent legislative changes, followed by expected legislation in the tenant's favour, such as the abolition of Section 21, as their main reason for exiting the market.

Over two-thirds of the landlords surveyed had evicted tenants using a Section 21 notice. The proposed phasing out of Section 21 has particular resonance for these types of landlords, who are naturally concerned about how they can ask tenants to leave. This has been brought into sharp relief as a result of the global pandemic, which saw eviction processes freeze and left many landlords unable to draw an income from their property.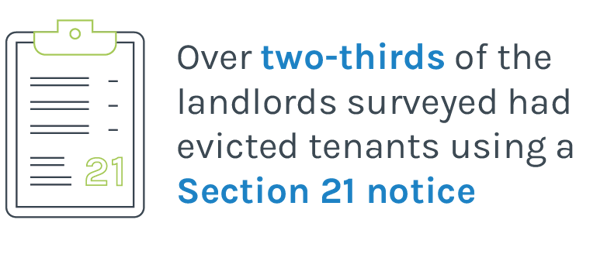 Should another pandemic occur, it's no surprise that many landlords are looking to exit the market rather than be left out of pocket by a tenant who is no longer paying rent but can't be removed from the property.

Although there has been backlash from landlord advocacy groups about the increasing red tape driving landlords out and narrowing the market, the government insisted the sector had nothing to worry about. A spokesman for the Department for Levelling-Up, Communities and Housing said "good landlords" had nothing to fear from the reforms, which were designed to "give tenants greater security to challenge unreasonable rent rises and poor practice".

"We're supporting vulnerable renters to help them meet the rising cost of living and stay in their homes, as well as investing £11.5bn to build more of the affordable, quality homes this country needs - including tens of thousands for social rent," the spokesperson added.


Reduced profits
Another reason for smaller landlords losing faith in the sector is the reduction in profits. Taken in conjunction with the raft of restrictive legislation, landlord profits are actually falling, despite the rent increases. In the wake of the controversial lettings fees ban, in some instances, it has become more expensive to be a landlord, with many agencies being forced to pass the costs of things like reference and credit checks onto the landlords they represent. For landlords with smaller portfolios – the study found that 45% of landlords own just one property – this increase in administration and charges at the commencement of a tenancy makes the prospect of being a landlord no longer tenable. The remaining 38% of landlords owned between two and four properties and 17% of landlords owned five or more properties.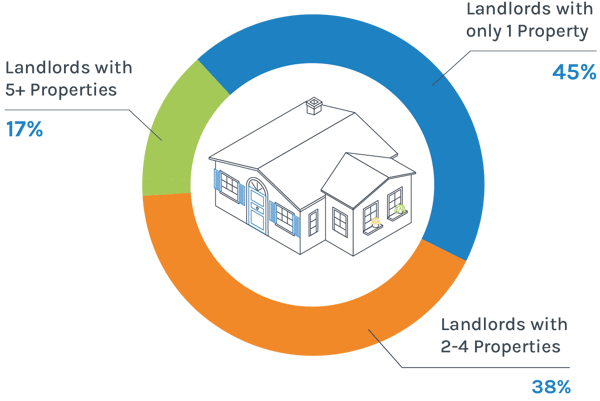 ARLA Propertymark president, Maxine Fothergill, commented: "As highlighted in the report, a large proportion of private landlords are retired, and the majority take home a gross profit of £20,000 or less a year and rely on rent as an income.

"Consequently, as landlords are persistently hit with legislative and tax changes, financial obligations are growing, and incentives are non-existent, pushing many to withdraw their homes from the sector.
"Landlords have reported within the survey that for those who are going to leave the sector, recent and forthcoming legislative changes were the driving key factor to doing so. Urgent action is needed from the UK government to maintain existing investment as any further reduction in supply could have a detrimental ramification for the housing sector, and a rise in those facing homelessness will be inescapable."

So, what does that mean for those that remain in the sector?
The reduction in landlords naturally means a reduction in properties. Research from Propertymark reveals that the number of homes available for rent via letting has halved since 2019. Of the 440 letting agencies spread across 4,000 branches throughout the UK, on average, letting agencies have seen the number of available rentals on their books halve, from over 30 to just 15. Anecdotally, both agents and tenants talk about properties being off the market within hours and agents unable to handle the number of requested viewings.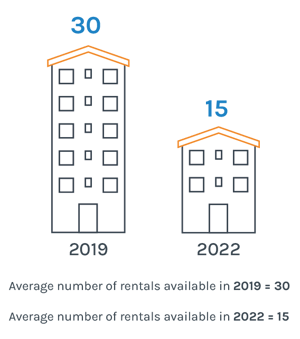 For letting agents, the changing profile of the market provides an opportunity for them to maximise their service levels. With tenant demand outstripping property supply, there is an increased need for them to ensure that they are getting the right quality of tenant for their landlords.
The EPLS survey asked landlords to select from a list of criteria which characteristics they would reject in a tenant. Only 8% of landlords were willing to rent to all tenant groups on the list, with 8 in 10 unwilling to let to tenants with a history of rent arrears, almost half unwilling to let to students and more than two-fifths unwilling to let to tenants on housing support or Universal credit.
Under the Government's plans detailed in its white paper, 'A Fairer Private Rented Sector', it will be illegal to refuse to rent to a tenant because they receive benefits. Thoroughly vetting tenants through effective referencing, as well as being responsive and reactive should any tenant issues occur, is the best way letting agents can find good, reliable tenants.
With fewer players in the market and those remaining professionalising and expanding their portfolio, thus making individual landlords ever more valuable, lettings agents need to create a competitive advantage to attract and maintain these high-value clients.
How can proptech help?
Technology solutions can help lettings agents maximise their time by automating tasks like reference and credit history checks. They can also be employed to enhance communication with both landlords and tenants, ensuring that small issues are immediately attended to and resolved, improving relationships with both. Systems like Fixflo can automatically tender a repairs job to a contractor, and then engage, instruct and invoice them. On the compliance side, software can 'cut through red tape' by keeping agents and landlords up to date with new legislation. Automating these kinds of tasks allows agents to dedicate their time to attracting and servicing new high-value clients with larger portfolios, as well as keeping existing clients happy.
---
Optimise your letting operations with the best software in the business. Read our Letting & Property Management Software Buyer's Guide 2022 to the main market players and learn how they can help you take your agency forward.
BLOG DISCLAIMER
This article is intended for information purposes only and does not constitute legal advice. If you have any questions related to issues in this article, we strongly advise contacting a legal professional.
These blog posts are the work of Fixflo and are licensed under a Creative Commons Attribution-ShareAlike 3.0 Unported License. In summary, you are welcome to re-publish any of these blog posts but are asked to attribute Fixflo with an appropriate link to www.fixflo.com. Access to this blog is allowed only subject to the acceptance of these terms.