Northwood MK is a franchise lettings and property management business that has been operating in the Milton Keynes and Bedford postcodes for over 20 years.
The problem
Gary Taylor, Director of Northwood MK, talked to us about his Fixflo adoption project and how the maintenance management system has turned his agency business into a sleek operation.
As a property management business with an established portfolio trusted by hundreds of landlords and tenants in the Milton Keynes and Bedford area, Gary's team of property managers mainly used their core property management software to manage reactive and planned maintenance. As such, they had little means to automate maintenance-related admins, and their property managers had to go into the system to look for overdue and upcoming tasks all the time. This creates gaps where
things could get missed – a compliance risk that is too big to ignore.
On the time before Gary's use of Fixflo, he commented, "Our previous system was very much a 'go in and find what you need' – the difference with Fixflo is that it tells me that a gas safety certificate is due on a property and I can set parameters around that to remind me in two weeks, and we can start the process of booking that automatically through the contractor. I've now got a completely different setup – previously, I had to go into the system and find something manually, which took time out of my day."
They had a Fixflo Basic subscription that allowed their tenants to report repairs via a repair reporting tool. Still, they were missing out on the specialist work orders and compliance management modules that Fixflo Professional offers.
"It's a head above every single other system I've used to date. I can see on a day-to-day basis what stage everything is at and whether anything's been missed. I would absolutely endorse Fixflo. I have, in fact, already told several agency business leaders about our digital transformation journey with Fixflo, and they've all become very keen to embark on their own projects and run a much sleeker property management operation."
Gary Taylor - Director of Northwood Milton Keynes
The solution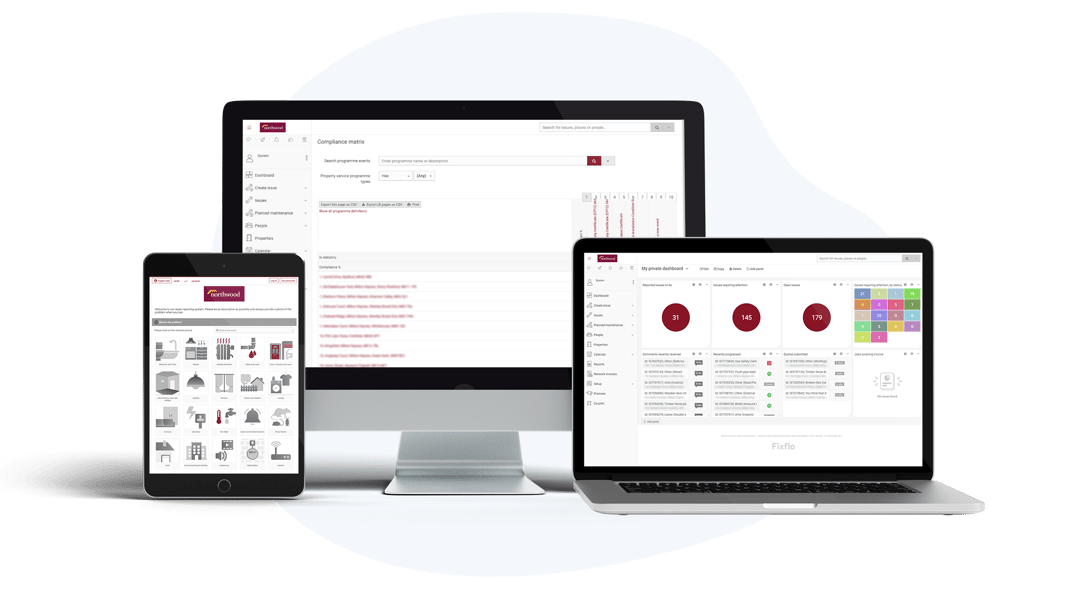 When asked about how he overcame these operational challenges, Gary said, "Fixflo allows us to see which repair requests are and are not being processed within the same day – an internal performance metric our property managers work towards. Landlords and tenants are informed within the same day and kept in the loop throughout the maintenance cycle. Fixflo also allows us to monitor our portfolio's compliance levels with ease. We customised our system so that we are reminded when a gas safety certificate is due in two weeks, and Fixflo's automation capability means that our preferred contractors for a particular set of planned maintenance are automatically invited to quote when a job is due. Fixflo prompts me and presents our tasks daily."
The outcome
"The main standout for me is compliance. The fact that we have the ability to manage it more clearly is a tremendous asset to the system. Essentially, I can track the workflow clearly and simply," Gary also shared how the use of Fixflo within his business has given him greater peace of mind, "This level of clarity, automatic workflow and transparency has given me confidence that nothing's being missed. The system has given us a much sleeker operation – we don't have to go looking for upcoming tasks
anymore, Fixflo automatically prompts us and presents any overdue and upcoming tasks on a daily basis – we can be much more confident now about our compliance levels and this, in turn, would earn our customers' trust, which is key to any successful business."