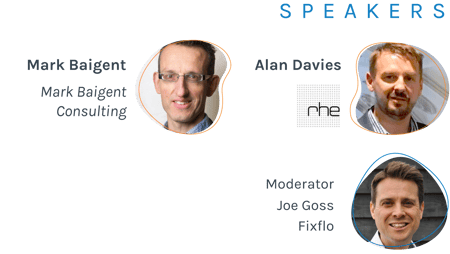 Mark Baigent

, Director, Mark Baigent Consulting
Mark has been working as a consultant and interim senior manager for the last five years, following 30 years leading housing, regeneration and homelessness services. Recent roles include Director posts in Haringey and Tower Hamlets, driving forward ambitious council house-building and estate renewal programmes. His book "How to set up a local housing company" is available as a free download online.
Alan Davies, Head of Consulting,

RHE Global
Alan is Head of Consulting, housing expert and trainer at RHE Global. He was a key member of the project team that engaged and delivered on the Housing Health and Safety Rating System (HHSRS) Scoping Review for the MHCLG. The scoping study determined the scale of review required for the HHSRS. He was also a member of the project team that developed, tested and piloted the HHSRS Fire Addendum to the HHSRS Operating Guidance, for the assessment of high-rise residential buildings with cladding systems. In 2010 he gained an Environmental Health Law Masters with merit (LLM) at Surrey University specialising in housing conditions and standards.